The Great Outdoors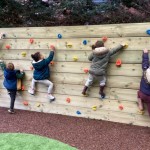 Outdoor play and outdoor learning are the cornerstones of what we do at Highfield Nursery School. From our 'mud kitchen' to our Forest School/Fun sessions, the great outdoors plays an integral part in the learning and development of all the children who come through our doors.
When children engage with nature they learn to respect the natural environment and realise their relationship with it. Different sensory experiences allow them to make and form connections, not just with nature, but with their own emotions too.
All our spaces are full of positive energy while being safe, secure and risk assessed. Providing them with an element of risk aids in their development allowing them to make better judgement calls in later life.
Every space is full of intrigue and gives the children the freedom and space they need to explore and go on their own adventures. We challenge children to explore their own physical limits which is perfect preparation for them when they push their physical boundaries later in life.
One day they'll be discovering giants in a magical forest, the next they'll be travelling under the sea in a special submarine! At our nursery, a world of wonder awaits.
Our outdoor play area is open daily throughout the year - whatever the weather!
"There's no such thing as bad weather, only bad clothes" a Scandinavian saying.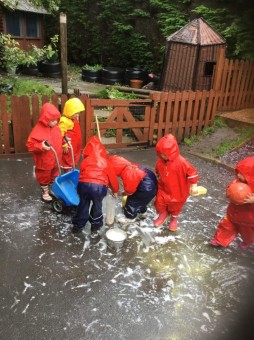 Play comes naturally and spontaneously to children. Here at Highfield Nursery School children are very fortunate to have plenty of space and time to play both outdoors and indoors. The setting environment is a place where children feel confident, are willing to try things out and know that their effort is acknowledged and valued.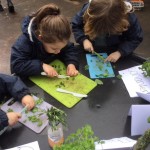 Being outdoors offers opportunities to do things in different ways and on different scales than when indoors. Our 'all year round' outdoor environment offers children freedom to explore, use their senses, be physically active and exuberant.
Request a guided tour of our nursery today and discover our wonderful spaces for yourself!