Contact Us
Susan Conron (Headteacher)
Wright Street
Chorley,
Lancashire
PR6 0SL
How to get to Highfield Nursery School
Getting to the setting using Sat Nav and/or Google maps sometimes proves very difficult. Quite a few of the streets locally are blocked off or one way and the current navigation devices do not seem to recognise this. With this in mind we have created an easy to use/read map with directional arrows from all the main routes into Chorley - see link below. There is an inset section which focuses on the streets around the setting and show which streets can be used for access. hopefully this will get you to the setting without any problems!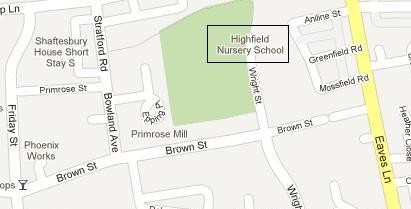 Email Address: admin@highfield-nur.lancs.sch.uk
For more information please contact Sue Conron, Head Teacher or Natalie Sinclair, Assistant Head Teacher on the above details.