Apply for a Nursery Place
We would love to have you and your child come for a guided tour around our fantastic nursery environment, please ring 01257 262556 to arrange a visit.
To apply for a place for a 2, 3 or 4 year old please complete the application form below and email it to bursar@highfield-nur.lancs.sch.uk.
Please take a moment to watch the below video to see what we have to offer you and your child.
The term after the child is 3, they are entitled to 15 hours of free early education and childcare per week for 38 weeks a year. You do not need to apply for 15 hours as children are entitled to the hours automatically, we will just ask you to sign a Parental Declaration to allow us to claim the hours on your behalf.
Some children are eligible for 15 hours Free education the term after they are 2 years old. Click on the link below to find out if you are eligible for the funded childcare for 2 year old's:
Traditionally, children have accessed this free entitlement as five mornings or five afternoon sessions per week. Flexible approaches to the delivery of these free sessions, to meet the needs of individual families, are offered.
The term after the child is 3, some children are be eligible for an additional 15 hours (30 hours in total). To see if you are eligible click the link below:
From April 2024, working parents of two-years-olds will be able to access 15 hours of free childcare.
From September 2024, 15 hours of free childcare will be extended to all children from the age of nine months.
From September 2025, working parents of children under the age of five will be entitled to 30 hours free childcare per week.
Fees are charged half termly and can be paid via bank transfer, cash, debit/credit card, Tax Free Childcare and Childcare Vouchers.
We do not charge a registration fee or ask for any fees upfront.
Click on the below link to find out more about our fees.
Uniform is not required at our nursery however it is best for you to put your child in clothes that you don't mind getting dirty/messy.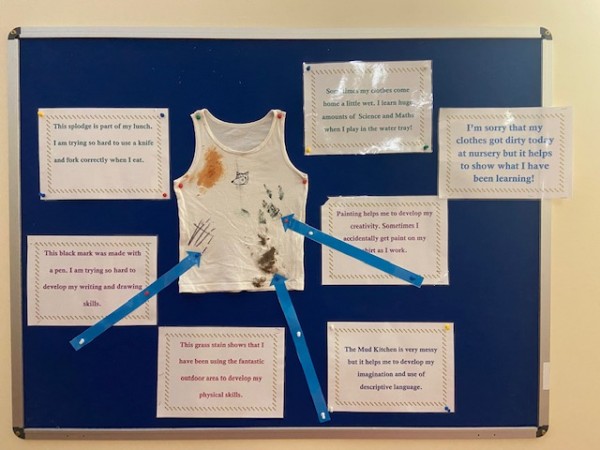 Click on the below links for more information regarding our Admissions Policy: