Welcome to Highfield Nursery
Highfield is an Outstanding Nursery School!
This Chorley Nursery is Outstanding!!
We are delighted to share with you the results of our Ofsted inspection which took place on the 28th February 2018. Once again, we are OUTSTANDING!!
The full report is available here (see link above) and is also published on the Ofsted website. Paper copies of the report are available on request.
Working with children, parents/carers and families, everyone here is committed to ensuring each individual is given the opportunity to develop and make progress in all areas of learning and life. Every one of us here, want our children to continue to be excited and motivated in order to continue learning.
Highfield Nursery School in Chorley is a place where everyone matters. Involving children and families in continued learning and development improves outcomes for individuals giving them opportunities to achieve success in life.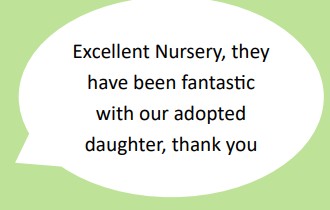 We believe the children and families of 'Our Highfield Community' deserve the very best that we can provide. We know we can make a difference and with your support we will continue to provide our children and families with a service that is ... ''no less than the best''.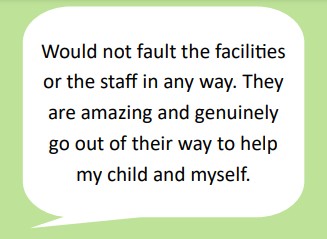 What does Highfield Nursery School, Chorley have to offer you and your child
Rated Outstanding by Ofsted

Experienced staff including qualified teachers and qualified SENCo.

Extensive outdoor space, including forest school area, that children access throughout the day

Large indoor environment, including a sensory room, dining room and library space

Up to 30 hours of free Early Education for eligible 3 year olds

Up to 15 hours of free Early Education for eligible 2 year olds

Affordable fees
If you have any queries or would like further information please speak to Natalie Sinclair, Assistant Headteacher, call 01257 262556 or email natalie@highfield-nur.lancs.sch.uk
Our nursery is open from 8am to 5.30pm.
Breakfast Club - 8.00 - 9.00
Morning Session - 9.00 - 12.00
Afternoon Session - 12.30 - 3.30
After School Club - 3.30 - 5.30.
Highfield Nursery School Values and Ethos
Highfield Nursery School is a 'Family' where everyone matters. At the heart of the community, everyone feels valued for their cultural backgrounds and individuality. We strive to follow children's passions, respecting their creativity and curiosity, regardless of where they are on their learning journey. We encourage everyone to respect diversity and promote equality whilst listening and learning from each other, involving parents at every step and providing children with the best possible outcomes to be confident and capable learners.
Please see our Curriculum Policy, under the 'Curriculum Intent' section for more information on our values and ethos.
We are able to provide paper copies of any of the information on our website, please speak to a member of the Administration Team in the office on 01257 262556.

If you need a paper copy of any of the information our website, then please call into the office and we can provide this free of charge.