Parents/Carers
Working in Partnership with Parents/Carers
Highfield Nursery School is situated in an area included in the top twenty percent DTER index of deprivation. Children, young people and families living in the surrounding areas are largely from White British, Polish and Asian heritage. The Nursery School actively promotes inclusion and children with identified additional needs are admitted in line with the admissions policy set by the Local Authority. Children attending wrap-around and continuity of care services are from a wide range of socioeconomic groups.
We believe in involving and supporting individuals in order that they will grow to be happy, healthy, achieve their personal goals and make a positive contribution to the community in which they live.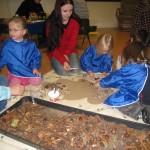 Working in partnership with parents/carers, everyone at Highfield understands that learning, development and care go hand in hand. Highfield believe strongly in the importance of engaging parents in children's learning.
A secure, safe and happy childhood is important in its own right. Good parenting and high quality early learning, together provide the foundation children need to make the most of their abilities and talents as they grow up.