OFSTED Reports
Please feel free to read the current OFSTED reports.
This Nursery is Outstanding!!
We are delighted to share with you the results of our Ofsted inspection which took place on the 28th February 2018. Once again we are OUTSTANDING!
The full report is available here (see link above) and is also published on the Ofsted website. Paper copies of the report are available on request.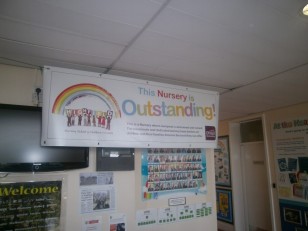 Working with children, parents/carers and families everyone here is committed to ensuring each individual is given the opportunity to develop and make progress in all areas of learning and in life. Every one of us here want our children to continue to be excited and motivated in order to continue learning.
Highfield Nursery School is a place where everyone matters. Involving children and families in continued learning and development improves outcomes for individuals giving them opportunities to achieve success in life.
We believe the children and families of 'Our Highfield Community' deserve the very best that we can provide. We know we can make a difference and with your support we will continue to provide our children and families with a service that is… 'no less than the best!'.