Latest News
Please see the letter below, regarding the new procedure for parents and carers starting on Monday 22nd May 2017
There has been lots going on at Highfield Nursery School....here's a taste of what has happened!
Visit to Clitheroe Castle
Some of the children in the Nursery School, who moved into Primary School in Autumn, visited Clitheroe Castle in July. The children had a fun-filled and exciting day, learning medieval sword skills (foam swords) to protect dragons and found out a lot about the history of the Castle. The children were particularly interested in the stories of the 5 Clitheroe Dragons - all of which had different colours and personalities.
Everyone had lot's of fun learning together and celebrating the beginning of Summer. There was a variety of dancing and creative physical activities to enjoy.
Party time at Highfield to mark 10 super years
The children had a fabulous time celebrating the 10th anniversary in Summer 2014
At the outdoor party, Headteacher Alison Hindle said "It has been a privilege to serve the families and children over the 10 years in different ways. The staff and Governors look forward to many more years to come, and look forward to welcoming many more children and families into our setting."
" Its so lovely to see all the community coming together to share in this celebration. Children and families from the present and past have all been here today and it's been brilliant to see everyone."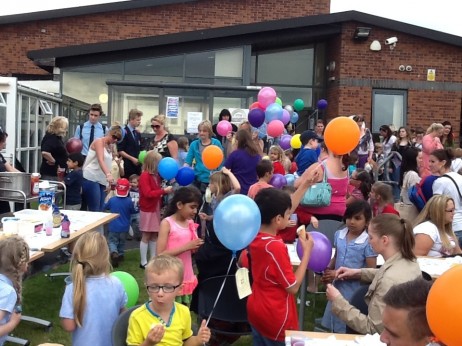 Deaf Awareness and Sign language Workshops
The current courses for Deaf Awareness and British Sign Language Foundation are proving very popular. These courses focus on key issues relating to communication with deaf people and acquiring an insight into signing skills. If you are interested in future courses pleases speak to Natalie in Outreach.
Highfield Nursery School recently raised £40.00 for Children In Need to help disadvantaged children all over the UK.